Downloadable form for Digital Information
Here are answers to some of the questions we often hear. If you have additional questions not addressed here, or would like to request more information, please click here to contact us.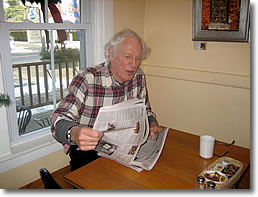 Q: Are there age restrictions for members?
A: Membership is open to people 62 or above.
Q. Why would I become a member if I don't need the services yet?
A: First, being a member is a way of planning for the future. It is a form of insurance and peace of mind for you and your family. The time may come, perhaps suddenly and unexpectedly, when you will need help in your home. Being part of Monadnock at Home gives you security. Second, by joining now you are contributing to the organization, assuring its existence not only for your own future needs, but also for the well-being of many of your friends and neighbors who need it now. One working couple in their 60's plans to join because of the ease of accessing all sorts of pre-screened maintenance services, many at a discount. Still not convinced?  Click here to read more good reasons to join now.
Q: Which towns in the Monadnock area are included in MaH?
A: Currently we serve members in Dublin, Fitzwilliam, Hancock, Harrisville, Jaffrey, Marlborough, New Ipswich, Peterborough, Rindge and Sharon. Any of the towns east of Monadnock in the Contoocook Valley area are welcome to join with MaH. The actual towns served will be determined by the goal of having a group of households ready to commit to membership in that town. Your help in spreading the word and recruiting members will assure that MaH will be able to operate in your community.
Q: How much are the membership fees?
A: Household - $600

Individual - $450

Snowbird memberships are also available for part-time residents.
Q: What is included in my membership fee?
A: The membership fee provides several important free services. Other kinds of services, such as finding a plumber or an electrician or someone to help with your yard work, etc., will be accessed by making just one phone call to the MaH office. If you wish, our staff will make all the arrangements for the provider to come to your home. Or, if you prefer, the staff will simply refer you to carefully prescreened providers and you can make the arrangements on your own. For these services you will pay the provider directly, often at a discounted rate. In either case, our staff will follow up with a phone call to check on whether the provider gave you satisfactory service.
Q: What if I need something that is not on the list of provided resources?
A: Call Monadnock at Home (603-371-0809). We will work to find a solution for your needs, if at all possible.
Q: Is MaH a duplication of services already available in our area?
A: No. We will be partnering with many other agencies and will make full use of all those diverse agencies, organizations and independent providers that are available in our area. The unique and reassuring benefit of MaH is that members will have a caring professional who is already known to them who stands ready to access the appropriate resources.
Q: Will social and educational activities be part of Monadnock at Home?
A: Definitely, but the form this takes will depend on the needs and wishes of the members. We anticipate offering wellness, educational and social events that bring people together around common interests.
Q: Can I buy my parents a membership?
A: That's a great idea! You can give a gift membership to your parents or other relatives who live in one of our participating towns. You will have the pleasure of knowing that they have the services to remain in their own home safely and manageably and in the community they love.
Q: Will Monadnock at Home communicate and coordinate care with a member's family?
A: If the member has given permission for this to happen, the director will work with or consult with family members. Written permission is important, because confidentially will be a key in all levels of MaH.
Q: What if people can't can't afford the membership membership fee?
A: Thanks to a grant from the Bean Family Foundation, a limited number of reduced fee memberships are available for those who qualify. For others who are considering joining, it may be helpful to note that annual membership costs about the same as a year of cable TV service.
Q: Will there be ways to volunteer my services to members?
A: Definitely yes! Volunteers will be a significant part of MaH. We anticipate that many of those volunteers will come from within the membership as well as from non-members.
Q: Will background checks be done for staff/volunteers coming into a member's home?
A: Yes. Both quality and safety will be priorities for all services.
Q: How would MaH handle a crisis or emergency?
A: In an emergency, members should call 911 to summon emergency response personnel. MaH would address follow-up needs.
Q: At what point should a person no longer remain in his/her home and move to a care facility?
A: There is no general answer to this question, but MaH will help individuals get the support, guidance and resources needed to make their decision. In many cases, the services of MaH will mean that there is no need to make a move, but each situation is unique. There are service providers who can help with downsizing to an apartment or making the transition to a care facility if needed.
Q: Does Monadnock at Home have any information about preventing falls in the home?
A: Yes, we have a document prepared by the NH Falls Risk Prevention Task Force that includes a handy checklist you can use to help prevent falls in your home. Click here to download the checklist.