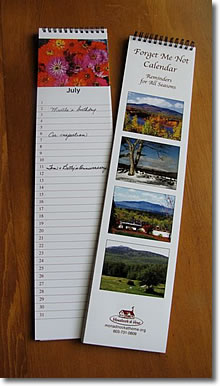 "Forget Me Not" Calendars for Sale
This permanent "Forget Me Not" calendar with beautiful photography of the Monadnock region provides an attractive place to record yearly dates such as birthdays, anniversaries, car inspections, flu shot, time to change smoke detector batteries, etc. At any age, but especially as we grow older, it's handy to have something to "tickle our memory". On sale for $15 each (including shipping), these calendars make wonderful, inexpensive birthday or Christmas gifts. To purchase your gift calendars, click below for an order form or call 603-371-0809.
Download an order form.